High Quality Components.
95% of all components are sourced from Austria and Germany. Production takes place at our site in Hörbranz.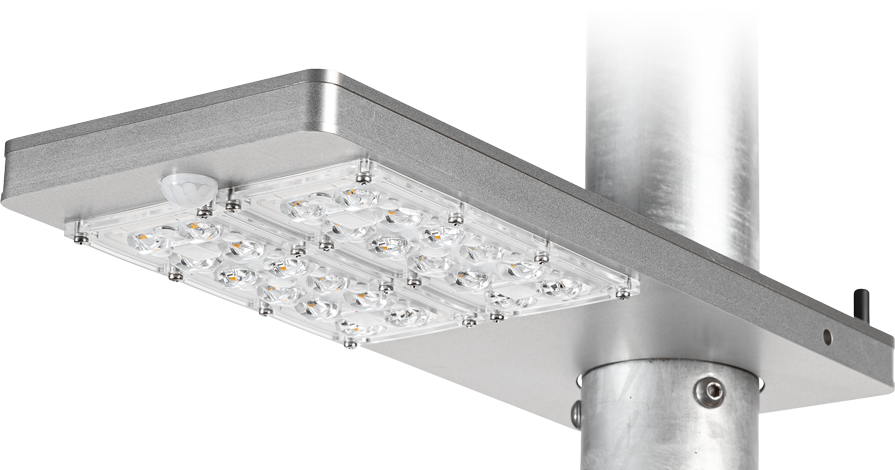 F8 solar lights can be installed almost anywhere and require little maintenance.
Powerful and robust components make this possible. Only high-quality solar modules made of monocrystalline silicon are used in our lights, with a significantly higher efficiency than that of conventional modules. The battery technology used is temperature-resistant and charges even in poor weather conditions. The LED lights work efficiently and reliably with high performance and low power consumption.
Overview F8 solar lights
F8 solar lights
F8 Valetta live
F8 Valetta extra
F8 Valetta intense
F8 Veridis
Materials
Galvanised steel pole

Wooden eco-pole (spruce)

Solar module bracket: galvanised steel

Lighting component: aluminium EN AW-5083, natural anodised

Total height
4.8 m
4.8 m / 5.8 m
4.8 m / 5.8 m
5.8 m / 6.8 m
Photovoltaic module: high power monocrystalline
Output
60 Wp
120 Wp
120 Wp
120 Wp
Adjustable inclination
30°-90°
30°-90°
30°-90°
30°-90°
LED
Quantity
1 x 12
1 x 12
2 x 12
2 x 12
Lifespan
>100,000 hr
>100,000 hr
>100,000 hr
>100,000 hr
Colour temperature: 2200 K / 3000 K / 4000 K – insect-friendly light

Mounting height
4.1 m
4.1 m / 5.1 m
4.1 m / 5.1 m
4.1 m / 5.1 m
Lumens max.
1200 lm
1900 lm
4200 lm
4200 lm
Battery
Capacity / Voltage
13 Ah / 12 V
13 Ah / 12 V
26 Ah / 12 V
39 Ah / 12 V
26 Ah / 12 V
39 Ah / 12 V
26 Ah / 12 V
Features
Motion detector PIR as standard

Motion detector radar: optional

F8 go live